Addressed to the Club Penguin Army Hub & community
This past weekend the community saw the Semi-Finals occur of the newest tournament on the scene, Aces of AUSIA! The third round has concluded as only TWO victors emerge to move on to the first ever Finals of AOA. Don't forget that there is also a third place finisher as well. Which armies will be facing each other in round four?
The first day of the third round of battles started on Saturday, December 12th. The two armies set to face off were the Help Force and Silver Empire.
Help Force

vs

Silver Empire
Throughout this battle there was a size difference of over 45 penguins in the favor of the helpers and although SE put up a good fight with their speedy tactics and neat bombs, it was not enough to overcome the size difference. Good job to both sides and congratulations to Help Force on advancing to the next round of AOA. (Credited to Judge Popcorny)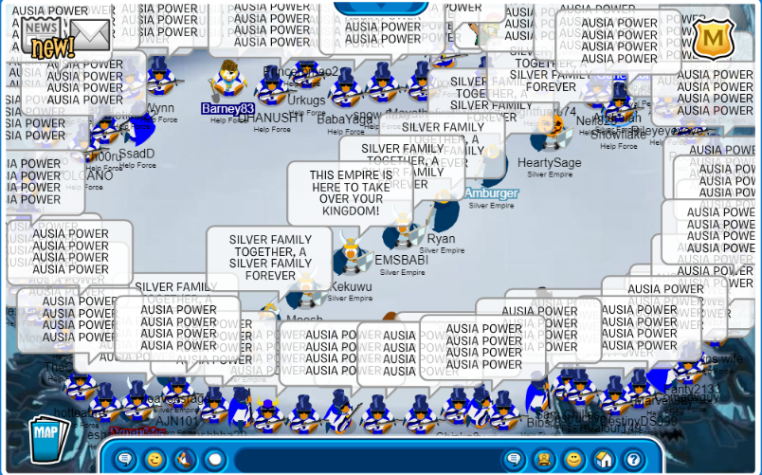 Winner:

Help Force
The second batch of battles kicked off on Sunday, December 13th. The two armies fated to fight each other, Army of Club Penguin and Red Ravagers, are actually close allies.
Army of Club Penguin

vs

Red Ravagers
For Room One, both ACP and RR had messy formations (that can definitely be improved on) but with ACP's speed of tactics and larger size they take the first room. Moving on, due to ACPs greater size difference, faster bombs, and tactics they win Room Two. There were lots of bombs but ACP's larger size and faster tactics wins them Room Three. Amazing work today! It was a fun one to watch! (Credited to Judge Kara)
Winner:

Army of Club Penguin
As predicted, all armies gave a mighty fine showing at the Semi-Finals. But it's not over for these four. Now, next weekend, the armies will face each other to determine the final podium ranks for the AOA. It could be anyone's game here. Only one can win it all. Get ready for one of the greatest AUSIA battles the community has ever seen.
Keep those snowballs coming,
Mchappy
ACP Guardian
Filed under: ACP | Tagged: Aces of AUSIA, Army of Club Penguin, Icey Cold27, Mchappy, Shamrock Bulletin |